HOLIDAY HOME CAMP FACILITIES 
Founded in 1887 during the Fresh Air Movement, Holiday Home Camp is one of the oldest Fresh Air Camps in the country. Not only is Holiday Home Camp a tradition to preserve, but a landmark.
The property consists of 26 acres of natural forest. Two hundred and eighty six feet of that property is on the shoreline of beautiful Geneva Lake.
---
Founders Hall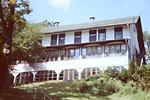 Built in 1887, Founders Hall is the heart of our camp and overlooks Geneva Lake. Founders Hall was once used for sleeping, eating and activities. It has since evolved into a building which houses our office, kitchen and dining facilities, arts and crafts room, library, game room, theatre room, fireplace room and sunporch and has a view of Geneva Lake from all three floors. The building is 130 years old and still retains many of its original features.
Cabins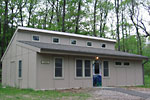 There are ten cabins on property, separated into two villages of five cabins. Each cabin sleeps 14, 12 in one room with a set of six bunk beds and two counselors or chaperones in a separate room. Each cabin has a bathroom with two showers, two sinks and two toilets. In each village, there is also a large campfire site.The cabins can sleep 140 people total.  We have partnerships with other nearby organizations for additional housing for groups over 140.  Because our cabins are not winterized, we also utilize these other organizations for winter housing. For groups wanting private rooms with queen or larger beds, we can make arrangements with nearby hotels and resorts, just minutes away.
Health Center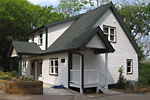 Our health center is the home for our summer camp health and wellness program. The center holds four beds for sick campers/staff, secure room for all medications, an office for our program staff, and a small area for games and lessons. We are very fortunate to have such a wonderful building dedicated to the health and wellness of our campers and staff.
Nature Center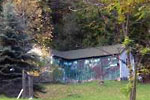 Our Nature Center is home to our five pets: Iggy the Iguana, Mary the Rabbit, Precious the Ball Python snake, Toby the Russian Tortoise and Fred the Red Ear Slider. The building also has a classroom area, office and is the home base for our summer camp environmental and outdoor education program. It is set in the woods, the perfect place for getting out and learning about the plants and animals found around camp.
Waterfront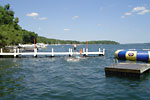 We are extremely fortunate to have 286 feet of lakefront property. We have a beach and swimming area that is divided into three areas for the different levels of swimmers. The "yellow" section is about 2 feet deep and is the perfect place for non-swimmers and swimmers, alike to play and enjoy the spring fed waters of the lake. We have two piers, a speedboat for tubing or touring the lake, a water trampoline, a water raft, fun yaks, canoes, and an area for fishing. Our Red Cross trained lifeguards are on duty at all times to ensure a safe and educational experience.
Archery

Our archery range is the perfect place to learn how to shoot straight.
Low Ropes Teambuilding Course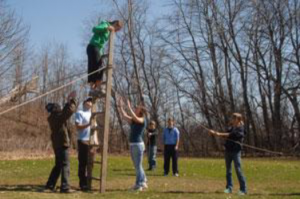 We have an extensive low ropes course on property, with over 25 teambuilding challenges.  These include Spider Web, Grapevine, Nitro River Crossing, Incomplete Bridge, Zig Zag, Mohawk Walk, Diamond, Tension Traverse, Whale Watch, Magic Ladder and 12' Wall.
Climbing Tower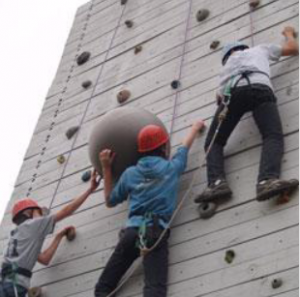 Our Climbing Tower is 40 feet tall with three opposing faces for groups to scale.  Each face can support up to three climbers at a time and can accommodate beginners, intermediate or more advanced climbers simultaneously.
High Ropes Course & Zipline 
Sophisticated belay and safety systems, consisting of wire cables, friction devices, climbing ropes and seat harnesses, manage risks while allowing participants to engage in a range of moderate to intense mental and physical challenges. At its highest point the course stands 35 feet above the ground in the beautiful wooded setting in which it was built.
Sports Court 
In lower camp, there is a multi-purpose sports court. The court can be used for basketball, tennis, volleyball, badminton, hopscotch and four-square.  There is also a gaga ball pit nearby.
Amphitheater 
The large amphitheater is surrounded by forest and can be used as a gathering place for skits, songs and campfire or as a meeting space for large groups.
Meeting Spaces
Inside Founders Hall, there are several areas for group gatherings.  Tables and chairs, whiteboards and A/V equipment are available for use for rental groups.
Dining Hall & Kitchen
Inside Founders Hall is a large dining hall overlooking the lake, which seats 150.  The kitchen is also available for rental groups that wish to prepare their own food.
Grassy Fields 
There are two large grassy fields on property, used for playing games like kickball or doing teambuilding activities.  One field can also be used for tent camping.