OWLS FACILITIES
---
The beautiful Holiday Home Camp includes 26 wooded acres overlooking Geneva Lake, in Williams Bay, Wisconsin. The camp offers full-service amenities and many program options.
Shared bath housing for groups up to 140. We have partnerships with nearby organizations with additional housing for groups over 140.
Each of Holiday Home Camp's ten cabins has six sets of twin bunk beds, a separate room with two twin beds for two group leaders, and a bathroom. Sheets, blankets and pillows are provided free of charge.
Cabins are not winterized, so groups wishing to stay overnight during the winter will be housed at one of our partner organizations.
For groups wanting private rooms with queen or larger beds, we can make arrangements at George Williams College or The Abbey Resort, both just minutes away.
Grassy field available for tent camping (must provide own tents )
A large dining hall with a variety of meal options or kitchen rental for those that want to prepare their own food
Indoor and outdoor meeting spaces with A/V equipment, whiteboards, tables and chairs available
Extensive Geneva Lake shoreline with many recreation opportunities
Easy access from Chicago, Rockford, Milwaukee, and Madison
Founders Hall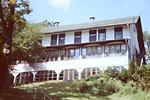 Built in 1887, Founders Hall is the heart of our camp and overlooks Geneva Lake. Founders Hall was once used for sleeping, eating and activities. It has since evolved into a building which houses our office, kitchen and dining facilities, arts and crafts room, library, game room, theatre room, fireplace room and sunporch and has a view of Geneva Lake from all three floors. The building is 130 years old and still retains many of its original features.
Cabins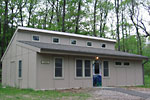 There are ten cabins on property, separated into two villages of five cabins. Each cabin sleeps 14, 12 in one room with a set of six bunk beds and two counselors or chaperones in a separate room. Each cabin has a bathroom with two showers, two sinks and two toilets. In each village, there is also a large campfire site.The cabins can sleep 140 people total.  We have partnerships with other nearby organizations for additional housing for groups over 140.  Because our cabins are not winterized, we also utilize these other organizations for winter housing. For groups wanting private rooms with queen or larger beds, we can make arrangements with nearby hotels and resorts, just minutes away.
Health Center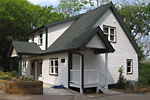 Our health center is the home for our summer camp health and wellness program. The center holds four beds for sick campers/staff, secure room for all medications, an office for our program staff, and a small area for games and lessons. We are very fortunate to have such a wonderful building dedicated to the health and wellness of our campers and staff.
Nature Center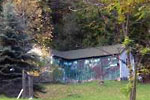 Our Nature Center is home to our five pets: Iggy the Iguana, Mary the Rabbit, Precious the Ball Python snake, Toby the Russian Tortoise and Fred the Red Ear Slider. The building also has a classroom area, office and is the home base for our summer camp environmental and outdoor education program. It is set in the woods, the perfect place for getting out and learning about the plants and animals found around camp.
Waterfront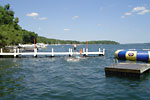 We are extremely fortunate to have 286 feet of lakefront property. We have a beach and swimming area that is divided into three areas for the different levels of swimmers. The "yellow" section is about 2 feet deep and is the perfect place for non-swimmers and swimmers, alike to play and enjoy the spring fed waters of the lake. We have two piers, a speedboat for tubing or touring the lake, a water trampoline, a water raft, fun yaks, canoes, and an area for fishing. Our Red Cross trained lifeguards are on duty at all times to ensure a safe and educational experience.
Sports Court 
In lower camp, there is a multi-purpose sports court. The court can be used for basketball, tennis, volleyball, badminton, hopscotch and four-square.  There is also a gaga ball pit nearby.
Amphitheater 
The large amphitheater is surrounded by forest and can be used as a gathering place for skits, songs and campfire or as a meeting space for large groups.
Meeting Spaces
Inside Founders Hall, there are several areas for group gatherings.  Tables and chairs, whiteboards and A/V equipment are available for use for rental groups.
Dining Hall & Kitchen
Inside Founders Hall is a large dining hall overlooking the lake, which seats 150.  The kitchen is also available for rental groups that wish to prepare their own food.
Grassy Fields 
There are two large grassy fields on property, used for playing games like kickball or doing teambuilding activities.  One field can also be used for tent camping.